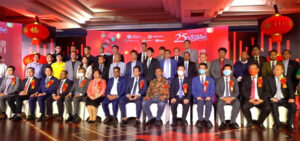 Moon Desk: The Overseas Chinese Association in Bangladesh celebrated 25 years since the reunification of Hong Kong with motherland China. On Friday, the day was celebrated at the Radisson Blu Hotel in the capital with a grand event.
Chinese Ambassador to Bangladesh Li Zhiming gave a speech on the occasion titled 'Bangladesh and China's Hong Kong: Two Jewels to Enlighten Each Other'.
Li Ziming said at the ceremony that in the past 25 years, Hong Kong's economy has expanded greatly, trade and shipping have increased, and science and technology have developed greatly. Maintaining a world-class trading environment, Hong Kong has become one of the most liberal and free economic hubs.
Pointing out that Hong Kong can play a role in investing in Bangladesh; the Chinese ambassador said that Bangladesh and Hong Kong can ensure the development of both sides through mutual cooperation in the development of the economy.
On this day 25 years ago, China took over the sovereignty of Hong Kong from Britain, ending a hundred years of occupation. China formulated and implemented the 'one country, two policy' for the Hong Kong Special Administrative Region to ensure the security, sovereignty and development of the region.
Organized by the Overseas Chinese Association in Bangladesh and the Hong Kong Economic and Trade Office, Mahfuz Anam, editor of the English daily of Bangladesh, The Daily Star, was present at the event. Apart from this, representatives of different levels of businessmen, investors and commercial organizations from Bangladesh and China were present.