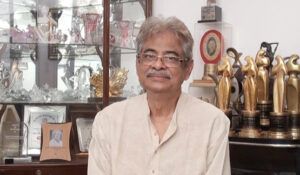 MT Desk: Legendary lyricist, director, producer and screenwriter Gazi Mazharul Anwar has passed away.
He fell sick at 7am on Sunday at his residence in the capital and was taken to the United Hospital where the on-duty doctor declared him dead.
His daughter-in-law Shahana Mirza confirmed the death to News.
He was born at Taleshwar village in Daudkandi upazila of Cumilla on February 22 in 1943.
Gazi started his career as a lyricist at Radio Pakistan in 1964. He started his career as a lyricist in the Dhallywood film industry in 1965. He wrote songs for Zahir Raihan's films including Kacher Dewal, Behula, and Dui Bhai.
In 1968, Zahir asked him to pen seven songs for a film in two days. Gazi amazed Zahir by finishing in two hours. During this time, Gazi wrote screenplays for multiple films including Urdu songs for Urdu-language films.
In the 1970 film Jibon Theke Neya, Gazi wrote the songs. "E Khacha Bhangbo Ami", sung by Khan Ataur Rahman, became a hit. "Eki Sonar Aloy", sung by Sabina Yasmin, was another hit, whose popularity endures.
In 1971, the historic fight for Bangladesh`s independence from Pakistan took place. Bangladeshi and Indian artists joined the movement through cultural protests. `Swadhin Bangla Betar Kendra` was established for that purpose. Songs protesting Pakistani aggression and glorifying Bangladeshi freedom fighters` strength and contributions were penned by Anwar Parvez, Govind Haldar and Gazi Mazharul Anwar. He wrote the patriotic and popular songs "Ektara Tui Desher Kotha", and "Ekbar Jete Dena", first sung by Shahnaz Rahmatullah.
He wrote "Joy Bangla Banglar Joy", which became the theme song of Swadhin Bangla Betar Kendra. He also wrote "Amay Jodi Prosno Koro Kolokakolir Desh". "Joy Bangla" became the theme song for the Awami League.
In 1972, he wrote the song "Shudhu Gaan Geye Porichoy" for the film Aponjon. In 1973, he wrote the popular "Monero Ronge Rangabo" for the film Masud Rana. In 1974, he wrote the hit song "Ganeri Khatay Sworolipi Likhe", sung by Runa Laila. It was her first Bangla song and established her as a household name. In 1974, he wrote songs for the patriotic film Alor Michil. Its songs, such as "Dukkho Korona" (sung by Abdul Jabbar) and "Ei Prithibir Pore" (sung by Sabina Yasmin) remain popular.
In 1990, he directed the film Swadhin, based on a story from the liberation. In 1997, he wrote "Je Prem Swargo Theke" and "Tumi Amar Praner Cheye Priyo" for Praner Cheye Priyo film. In 1999, he penned the songs for the film Biyer Phul, Ammajan, Madam Fuli, Ragi. Biyer Phul had the hit song "Tomay Dekhle Mone Hoy", sung by Kishore and Kanakchapa.
He worked with almost every singer and music director of Dhallywood. He wrote songs for Shahnaz Rahmatullah, Syed Abdul Hadi, Sabina Yasmin, Runa laila, Andrew Kishore, Kanak Chapa, Subir Nandi and Khurshid Alam.
He got the Bangladesh National Film Award for Best Lyricist a record six times for the films Tit for Tat (1992), Ajante (1996), Churiwala (2001), Lal Dariya (2002), Kokhono Megh Kokhono Brishti (2003) and Meyeti Ekhon Kothay Jabe (2016). He was awarded Ekushey Padak in 2002 and Independence Day Award in 2021.