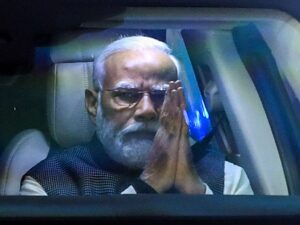 MOON Desk: The Committee to Protect Journalists, a New York-based international watchdog body, Wednesday called on the United States to press India to end its media crackdown and release the six journalists arbitrarily detained in retaliation for their work, as Prime Minister Narendra Modi prepares for his upcoming visit to the U.S. Since Prime Minister Modi came to power in 2014, there has been an increasing crackdown on Indian media, CPJ President Jodie Ginsberg said in a statement released Wednesday.
Journalists critical of the government and the BJP party have been jailed, harassed, and surveilled in retaliation for their work. India is the world's largest democracy, and it needs to live up to that by ensuring a free and independent media and we expect the United States to make this a core element of discussions, he said.
Prime Minister Modi of India, a strategic ally of the U.S., begins his state visit to the US on June 21. On Wednesday, June 14, CPJ convened an online panel, India Press Freedom Crisis, with open-ing remarks and moderation by Ginsberg alongside panellists Geeta Seshu, founding editor of the Free Speech Collective watchdog group; Anuradha Bhasin, executive editor of the Kashmir Times newspaper; and Shahina K.K., senior editor for Outlook magazine.
The panellists discussed the deterioration of press freedom over the last decade, with Seshu detailing the rise in censorship and vicious attacks on the media, while Shahina shared her ongoing battle to fight terrorism charges filed nearly 13 years ago by the Karnataka state government, then led by Modi BJP party, in retaliation for her investigative reporting.
Bhasin spoke about the effective silence that Kashmiri journalists have dealt with since the Modi government unilaterally revoked Jammu and Kash-mir's special autonomy status in 2019, with multiple cases of reporters being detained and interrogated. CPJ called on President Joe Biden, who is host-ing Modi's visit, to urge India to act on the following press freedom violations:
The ongoing detention of six journalists–"Aasif Sultan, Gautam Navlakha, Sajad Gul, Fahad Shah, Rupesh Kumar Singh, and Irfan Mehraj"–in retalia-tion for their work. All have been targeted under draconian security laws, CPJ said. Shah faces trial on spurious terrorism charges about a 2011 article published by his online magazine The Kashmir Walla. The other five journalists remain in pretrial detention, it added. The harassment of the domestic and foreign media, including routine raids and retaliatory income tax investigations launched into critical news outlets.
In February, income tax authorities raided the BBC offices in Delhi and Mumbai after the government censored a critical documentary on Modi by the broadcaster. Foreign correspondents say they have faced increasing visa uncertainties, restricted access to several areas of the country, including Indian-administered Jammu and Kashmir, and even threats of deportation in retaliation for critical reporting in recent years. The media crackdown in Kashmir, including the use of preventative detention, terrorism and criminal cases, travel bans, raids, and summons for questioning in retaliation for journalists' work.