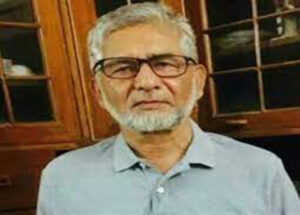 Md Jubair: Senior illegally detained APHC leader Altaf Ahmad Shah embraced martyrdom in Indian custody.  Altaf Ahmad Shah was son-in-law of the icon of Kashmir freedom movement martyred Syed Ali Gilani, who had languished in infamous Tihar Jail. His daughter Ruwa Shah tweeted, "Abu (father) breathed his last at AIIMS, New Delhi. As a prisoner".
The leader was not keeping well for a long time and his family had requested the jail authorities for medical attention. The requests were also sent to PM Modi and Amit Shah as the deceased leader's daughter wrote a letter to seek immediate medical attention. However, no bail was granted to Shah despite his worsening health issues.
Altaf Shah was suffering from multiple ailments and his health had deteriorated as Indian authorities denied him basic facilities including medical care in the jail. He was diagnosed with last stage of renal cancer that had spread to other parts of his body.
Earlier, APHC urged Indian government to release Altaf Shah Shah on bail on humanitarian grounds and let his family take care of him. It had maintained that the illegally detained Kashmiri political prisoners including Hurriyat leaders and activists languishing in different prisons across India since 2017 and even before have developed serious health problems due non-provision of medical care and hygienic food.
Indian occupation forces have killed more than 96,148 innocent people among them 7,274 in custody. 165,400 civilian arrested, 110,498 structures torched/destroyed, 22,950 women widowed, 107,880 children orphaned, 11,256 women gang-raped / molested."
Altaf Ahmad Shah is not the first Kashmiri political prisoner who had died during illegal detention.
Earlier, Syed Ali Gilani embraced martyrdom at his residence on 01 September 2021, while remaining under house arrest for over a decade. Senior APHC leader, Muhammad Ashraf Sehrai was a close associate of Syed Ali Gilani, died on 05 May 2021 in a prison in Jammu. He was jailed under draconian law public Safety Act that allows the authorities to detain a person for up to two years without bail.
Another Hurriyat leader and former member of Jamaat-e-Islami in Indian illegally occupied Jammu and Kashmir, Ghulam Muhammad Butt embraced martyrdom in December 2019 in Naini jail in the Indian state of Uttar Pradesh.
India's attempt to portray Kashmiri leaders as "terrorists" and then prosecute them through "concocted cases" is a violation of international human rights and international law, including UN Charter and resolutions passed by UNSC&UNGA.
The custodial killing or deliberate murder of Altaf Ahmad Shah authenticates the fears of Hurriyat leaders about their comrades like AasiyaAndrabi, Mohammad Yasin Malik, Shabir Ahmed Shah, Advocate Shahidul Islam, Nayeem Ahmed Khan, Ayaz Akbar, Peer Saifullah, Raja MerajuddinKalwal, Syed ShahidYousuf, Shakeel Ahmed, Farooq Ahmed Dar, FehmeedaSofi, NahidaNasreen, Zahoor Ahmed who have been languishing in jails either in India or in the occupied territory.
It is time UN and International Committee of the Red Cross should urge India to drop all fabricated charges against political leaders of IIOJK and provide them complete legal protections, including the right to a free and fair trial.