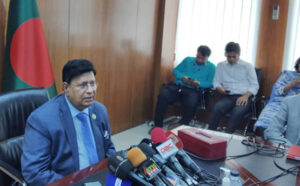 Moon Desk : The government of Bangladesh said Myanmar`s military junta government has agreed to repatriate the Rohingyas on Thursday (Oct 20).
Foreign Minister Dr. AK Abdul Momen said that Myanmar`s military government has honored all previous agreements to repatriate the Rohingyas, which is a good sign.
The meeting was held at the State guesthouse Padma while the Foreign Minister briefed the media at the Ministry of Foreign Affairs.
Dr. Momen also said that "We have told the Chinese ambassador that if Myanmar wants to take back the Rohingyas, let them take. But he could not give any good news. We are ready to send them back. However, no date has been fixed yet".
"The bombing on the Myanmar border has decreased after the Chinese told them. There are 5,000 Rohingyas on the zero line. We told China to tell Myanmar to take these Rohingyas inside", Minister said.