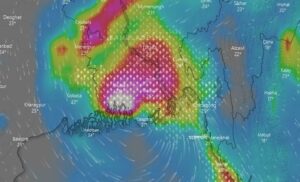 M00n Desk: At least 12 people were killed in six districts in the country as cyclonic storm Sitrang hit Bangladesh coastline on Monday and crossed Barishal-Chattogram coast early on Tuesday leaving a trail of devastation in coastal districts.
Sitrang's impact on life and property started becoming evident on Tuesday after the cyclonic storm became very weak lying in Netrokona and adjoining areas to disappear by 3pm.
Our correspondents from Cumilla, Bhola, Barguna, Noakhali, Sirajganj and Gopalganj reported that most of the casualties happened due to fall of branches of trees since Monday as the country saw moderate to heavy downpours induced by cyclonic storm Sitrang in the last 24 hours till 6am on Tuesday.
In Cumilla, three of a family were killed as a tree fell on them at Nangalkot upazila, upazila nirbahi officer (UNO) Md Raihan Mehebub confirmed it to BSS.
The deceased are Nizam Uddin, 28, his wife Sathi Akhter, 24 and daughter Liza, 4.
He said a tree fell on a house at Hesakhal village in the upazila around 9pm on Monday leaving the three critically wounded.
They were taken to upazila health complex where on duty doctors declared them dead.
Bhola correspondent reports: Three persons were killed as tree branches fell on them at Daulatkhan and Charfashan upazilas.
The deceased are Mafidul Haque, 65, resident of ward no 3 under Dhania union of Daulatkhan and Bibi Kateja, 80, resident of ward no 7 under Daulatkhan municipality and Manir Swarnakar, 35, resident of Hajirganj union under Charfashan upazila.
District relief and rehabilitation officer SM Delwar Hossain confirmed this to BSS.
In Sirajganj, two died as a boat capsized in a canal of river Jamuna in the Sadar upazila between Purbomohon area of Saydabad union and Shilpa Park on Monday due to heavy wind and downpours induced by cyclonic storm.
Bangabandhu Bridge West Thana officer-in-charge Mosaddeq Hossain confirmed this to BSS.
The deceased are Ayesha Khatun, 28, resident of Purbomohon village and her son Arafat Hossain, 2.
Tungipara (Gopalganj) correspondent reports: Two women died as trees fell on them in Panch Kahania and Banshbaria villages under the upazila on Monday night.
The deceased are Sharmin Begum, 25, resident of Panch Kahania village and Rumichha Begum, 65, resident of Banshbaria village under Tungipara upazila. This was confirmed by OC Abul Mansur.
In Barguna, an elderly woman, nearly 100-year-old, died as an uprooted tree fell on her house while she was taking dinner around 8pm at Burirchar union under Sadar upazila. Burirchar union chairman Humayun Kabir confirmed the incident.
Our Noakhali correspondent reports: A child was killed as an uprooted tree fell on their house around 3am on Tuesday at Habibia village under Subarnachar upazila.
The deceased is Sneha, 1, daughter of Advocate Abdullah of the village. Char Jabbar thana OC Deb Priyo Das confirmed it.