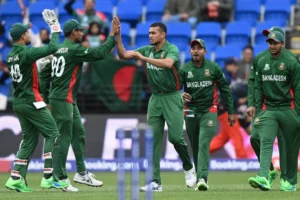 Sports Desk: In a bid to keep up the winning spree, Bangladesh cricket team today reached Sydney where they would take on South Africa in their second match of the T20 World Cup on Thursday. Bangladesh earlier made a winning start to the World Cup mission, having beaten Netherlands by 9 runs in a tricky condition in Hobart yesterday. That was the team's first victory in the main round of the T20 World Cup since their win against West Indies in the inaugural edition of the showpiece event.
The win that came after a four-match losing streak, which they sustained in the tri-nation series in New Zealand, gave the side a soothing pleasure and boosted the confidence, according to captain Shakib Al Hasan.
Terming it as an important victory, Shakib said the pacers should be credited for the victory as they were 10 runs short of their desired total.
Bangladesh were able to put up just 144-8 but led by Taskin Ahmed's career- best 4-25, the Tigers defended it without any trouble.
Shakib expected the same performance from the pacers once again when they
take on South Africa, a team against whom they lost all of their seven T20
matches previously.
Bangladesh however didn't take part any practice session upon reaching
Sydney today, rather they roamed around the city and visited Sydney's
signature place Opera House and Harbour Bridge.
The Tigers will have a three-hour long practice session tomorrow, before
taking on South Africa in the crucial game.
South Africa had to share points with Zimbabwe due to the persistent rain
in Hobart. Sharing points particularly was a huge loss for them as they were
in position of winning the game. Therefore the game against Bangladesh is
extremely crucial for them to stay alive in the semifinal race.
But if Bangladesh can grab their maiden T20 victory against South Africa,
they will be the one of the prime contenders to reach the semifinal alongside
India and Pakistan.