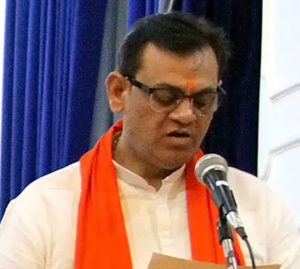 Moon Desk: UP State Minister for Jal Shakti Dinesh Khatik resigned from the Yogi Adityanath-led Uttar Pradesh government.
In a letter to Home Minister Amit Shah, Khatik expressed his displeasure at being sidelined by the party and made repeated references to discrimination on the basis of his caste identity.
Another prominent feature of the Minister's letter was that he alleged "a lot of corruption" in the transfers of officials.
He further alleged widespread corruption in transfers in other departments too and specifically mentioned the state chapter of the Namami Gange scheme to clean up the river Ganga and curb pollution into it.
Khatik further alleged that since assuming charge of the Jal Shakti Department for the second time, no responsibility has been bestowed upon him by the state government. "Yeh ek jan pratinidhi ka bahut bada apman hai… Mujhe vibhag mein abhi tak koi adhikar nahin diya gaya hai (This is the disrespect of a public representative… I have not been allocated responsibilities either in the Jal Shakti Department so far).
He also explicitly alleged in his letter that he was being discriminated against because he hails from Dalit caste.
The alleged discrimination was condemned by Bahujan Samaj Party (BSP) chief Mayawati, a popular face of Dalit politics in the state, as well as by Samajwadi Party (SP) Chief Akhilesh Yadav. Yadav jibed, "Sometimes, the bulldozer moves backwards," referring to Adityanath's much-touted 'bulldozer politics'.