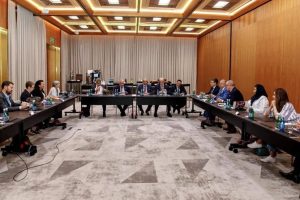 Moon Desk: The King Salman Humanitarian Aid and Relief Center (KSrelief) held on Tuesday a joint meeting with the United Nations High Commissioner for Refugees (UNHCR) and the World Health Organization (WHO), the Saudi Press Agency (SPA) reported.
The meeting took place in Poland in the presence of Saudi Ambassador to Poland Saad bin Saleh Al-Saleh; Advisor at the Royal Court and Supervisor General of KSrelief Dr. Abdullah bin Abdulaziz Al Rabeeah; Advisor to the High Commissioner and Regional Representative of the UNHCR Khaled Khalifa; and WHO Representative for Poland Dr. Paloma Cuchi.
During the meeting, Al Rabeeah praised the strong strategic partnership between the three organizations, adding that their humanitarian and relief projects have benefited millions around the world, according to SPA.
He also said he hoped to expand their cooperation to reach even more people, SPA reported.
Meanwhile, Khaled Khalifa praised the aid provided by the Kingdom to refugees in various countries around the world, while WHO's Poland representative said Saudi Arabia's efforts have greatly impacted the lives of millions.
The officials also discussed several issues regarding refugees, including the humanitarian response to Ukrainian refugees fleeing to Poland and neighboring countries.