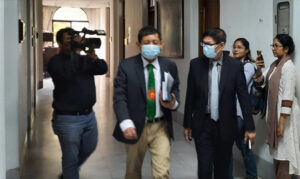 Diplomatic Correspondent: Dhaka has summoned Myanmar ambassador for the fourth time to hand over a protest note for violation of land and airspace on the border at Naikhongchhari in Bandarban.
Ambassador U Aung Kyaw Mo was summoned at the office of Nazmul Huda, the Director General (South East Asia wing) of the Ministry of Foreign Affairs of Bangladesh to lodge the protest on Sunday noon.
On Friday night, a 28-year-old Rohingya man named Mohammad Iqbal was killed and eight others were injured as five mortar shells fired from Myanmar exploded at a Rohingya camp on no-man's-land near Tumbru bazar in Bandarban's Naikhongchhari upazila.
Earlier, a Bangladeshi youth was injured after a land mine exploded inside Myanmar territory along the Naikhongchhari border area in Bandarban.
Aungthwaing Tangchangya, 22, from Tumbru headman para of Ghumdum Union Parishad was injured near pillar 35 and 100 metre inside Myanmar border.
Tangchangya lost his left leg in the explosion. He was first admitted to Kutupalong MSF Hospital and then shifted to Cox's Bazar Sadar Hospital.
The Foreign Ministry of Bangladesh also summoned Myanmar's ambassador to lodge protests on several occasions after mortar shells fired from across the border landed in Bandarban last month.