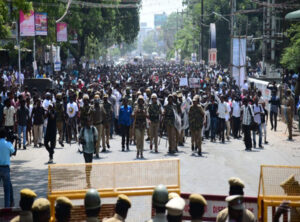 Md Nazrul: The issue of justice for the victims of the 2018 Thoothukudi firing and the alleged police excesses have once again come to the fore after the probe report by Justice Aruna Jagadeesan Commission was partially leaked recently.
The leaked report has renewed calls for justice from victims and activists, it has to the chagrin of political parties – opened a can of worms.
The Commission's report accused policemen of using "excessive lethal force" and opening fire "unprovoked" at "fleeing protesters" due to which13 people had died. Violence erupted in the last week of May 2018 in Thoothukudi coinciding with the 100th day of a peaceful civil protest by locals against Sterlite Corporation's smelter plant in their town.
Several hundred protesters were arrested and faced harassment by Police. Internet was also suspended in the district from 23-28 May 2018, for the very first time in Tamil Nadu in wake of a law-and-order situation.
According to the protesters, the plant was responsible for ecological damage. Victims are disappointed with the government for dragging its feet over tabling the report before the state assembly and not acting against policemen who resorted to violence.
Activists across the state also said they welcomed the findings of the Commission and urged the government to act immediately.
The damning report by the Commission held several top police officials responsible for the violence, including the then Inspector General of Police (South Zone) Shailesh Kumar Yadav (now ADGP, Police Welfare); Deputy Inspector General of Police (Tirunelveli Range) Kapil Kumar C. Saratkar (now an Additional Commissioner of Police, Chennai city); Superintendent of Police (Thoothukudi) P. Mahendran (now Deputy Commissioner (Admn), Chennai); and Deputy SP (Thoothukudi) Lingathirumaran, and three Inspectors, two Sub-Inspectors, one head constable and seven constables.
The Commission's report, which runs into 3,000 pages and spread over five volumes, charged police with opening fire at "fleeing protesters". The commission recommended that the state government initiate action against the police officials for "their acts of commission and omission departmentally without prejudice to launching criminal action", for they "have certainly exceeded the limit".