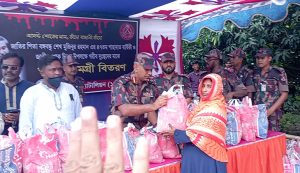 Rajshahi Bureau: On the occasion of the 47th martyrdom anniversary of Father of the Nation Bangabandhu Sheikh Mujibur Rahman, Border Guard Bangladesh (BGB) No. 1 Battalion Shahapur BGB Camp under Shahapur BOP has distributed these food items among the poor and needy.
On Monday, the food items were distributed among the poor and needy people of Shahapur Paschimpara area of ​​Ward No. 3 of Yusufpur Union. Sector Commander Colonel Anwar Latif Khan, PSC was present as the chief guest and distributed these food items among 50 families in Shahapur BGB camp. Captain Lt Col Sabbir Ahmed, PSC was present on this occasion. BOP Commander Mohiuddin of 1 BGB was in full cooperation.
Chairman of No. 1 Yusuf Pur Union Ariful Islam Makhan, No. 1 ward UP member Ringku, No. 3 ward member Masud Ali, No. 5 ward UP member Lutfar Rahman and women members of wards 4, 5, 6 Rina Begum were present.
Note that BGB distributed 5 kg rice, half kg dal, half kg sugar, half kg oil and 1 kg potato packets to each family.