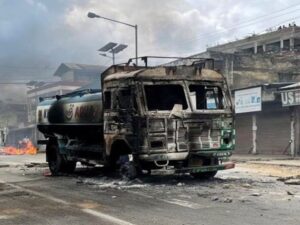 Moon Desk: The imposition of draconian laws like the Armed Forces Special Powers Acts (AFSPA) in the Indian state of Manipur has deepened the trust deficit between the government and the multi-ethnic society of Manipur state, fuelling the already active separatist movements in the region.
Since May 3, Manipur has witnessed inter-ethnic clashes primarily between Meitei and Kuki communities which resulted in over 98 deaths and the burning of at least 1,700 buildings including homes and religious sites.
According to the media reports, more than 35,000 people are currently displaced as well, with many now living in one of the 315 relief camps in the state.Instead of finding out any political means to resolve the dispute, the "Indian government's response has largely echoed the strategies India has previously employed during unrest in the Northeast or Jammu and Kashmir," the United States Institute of Peace said in a report.
"This has included issuing military curfews, suspending internet services and deploying approximately 17,000 troops and paramilitary forces with shoot-on-site orders in effect for "extreme cases."
Just like the Indian Illegally Occupied Jammu and Kashmir (IIOJK), the Narendra Modi-led government is also trying to suppress the demands of the three million people, through the use of brutal force.
The AFSPA act has been criticised by Human Rights Watch as a "tool of state abuse, oppression and discrimination". On March 31, 2012, the UN asked India to revoke AFSPA, saying it had no place in Indian democracy.The violence erupted after the militants, reportedly backed by the central government attacked five localities mainly inhibited by the Christian community.
The latest factor triggering the violence was a high court's decision ordering to grant a Scheduled Tribe (ST) status to the Meiteis that would give them access to forest lands and entitle them to reservations in government jobs and educational institutions. The move has created fear among tribal communities including Kukis of losing their lands.
The United Nations High Commissioner for Human Rights Volker Turk urged the authorities to "respond to the situation quickly, including by investigating and addressing root causes of the violence in line with their international human rights obligations".