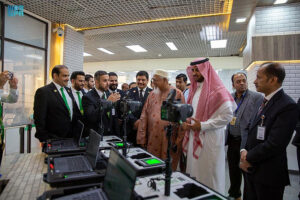 Diplomatic Correspondent: Envoy of Saudi Arabia to Bangladesh Issa bin Youssef Al-Dahilan recently visited a hall dedicated to the Kingdom's Makkah Route initiative at Hazrat Shahjalal International Airport in Dhaka on Wednesday. He was accompanied by the Minister of State for Religious Affairs Mohammad Faridul Haq Khan, HAAB President Shahadat Hossain, and senior officials of the Saudi embassy and Bangladesh government at the moment.
The scheme allows pilgrims to pass seamlessly through immigration facilities at airports in their respective countries.
Youssef Al-Dahilan briefed and answered the media's questions on the progress of work at the airport hall as well as procedures implemented in Bangladesh and Saudi Arabia to facilitate the pilgrimage. He said the initiative, launched by the Interior Ministry, was aimed at streamlining the whole pilgrim travel easier, especially enabling Hajj visitors from seven countries to complete immigration
Al-Dahilan lauded Bangladesh, Morocco, Indonesia, Malaysia, Pakistan, Turkiye, and the Ivory Coast for their participation in the initiative.
The Saudi envoy added that Makkah Route Initiative embodies the interest of the wise leadership to serve pilgrims, adding that Makkah Route is one of the Ministry of Interior's initiatives within the Pilgrim Experience Program, which is also one of the Saudi Vision 2030 projects. It entails taking care of all the travel procedures needed by the pilgrims in their homeland, including issuing visas electronically, and ensuring pilgrims have a clean bill of health, cargo, and completing passport procedures at the airport in the country of departure.