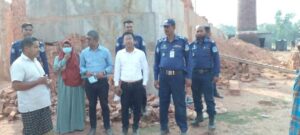 Rayhan Ahmed, Mymensingh: Mobile court was conducted against 6 brick kilns operating illegally in various areas of Bhaluka Upazila of Mymensingh district under the initiative of the Environment Department Mymensingh District Office on Wednesday.
The learned Executive Magistrate and Deputy Director of Mymensingh Divisional Office Mr. Rubel Mahmud led the mobile court. Assistant Director Mr. Nazia Uddin served as the prosecutor. Mymensingh District Police provided security to the mobile court and provided assistance. At that time, in violation of the Environment Protection Act, 1995 (Amended 2010) and Brick Making and Kiln Installation (Regulation) Act, 2013 (Amended 2019), i.e. illegally operating brick kilns in residential areas and near educational institutions without environmental clearance and for the purpose of manufacturing bricks without the permission of the District Commissioner. A fine of Tk. 30,00,000/- (Thirty Lakhs) was levied and collected from 6 brick kilns for the offense of soil collection and the kilns were demolished.
Deputy Director of Environment Directorate, Mymensingh District Office Mr. Mihir Lal Sardar and other officials and employees were present in the mobile court.