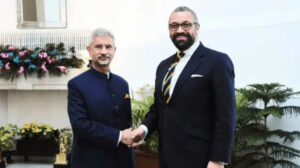 Moon Desk: British Foreign Secretary, James Cleverly, raised the issue of Income Tax department searches on BBC offices in Delhi and Mumbai with his Indian counterpart S. Jaishankar.
The issue was raised during their bilateral meeting, as per reports citing an interview with James Cleverly, who is in India to participate in the two-day G20 Foreign Ministers meeting, which began on Wednesday.
Last month, income tax authorities had conducted "survey operations" at BBC offices in New Delhi and Mumbai.
As per reports, British politicians, across the political spectrum, had expressed their outrage in the House of Commons last week over the raids and questioned the UK government on its engagement with the (Indian) government on the issue.
The searches came after the Indian government had reacted strongly against a two-part BBC documentary on anti-Muslim riots in Gujarat in 2002 which was deeply critical of Prime Minister Modi when he was state chief minister and the government's relationship with India's Muslims.
However, the documentary was banned in India.