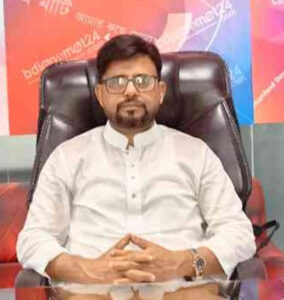 Staff Reporter: Presidium member of Bangladesh Jatiya Party Mohammad Faruqul Islam has been nominated as the spokesperson of the party by acting chairman of the party Professor M A Mukit. This matter was confirmed to the media through a press release issued by the Bangladesh National Party yesterday.
Bangladesh Jatiya Party is the 28th registered party of the Election Commission. The founder of the party is former minister M A Matin. He first joined BNP and later Ershad's Jatiya Party. He was also elected as a Member of Parliament several times. M A Matin was also a member of Ziaur Rahman and Ershad govt's cabinet. After his death in 2012, his son Professor M A Mukit became the chairman of the party. At present the party has some activities in Dhaka city and Sirajganj.
Mohammad Faruqul Islam, a presidium member in charge of the spokesperson of Bangladesh Jatiya Party, a partner party of the United Front, the political alliance of the current ruling Awami government, is a businessman in his professional life. Besides, he is the CEO of human rights organization CDP, editor of Janomot24 and president of Satellite TV Audience Forum (Staff).
In this regard, Mohammad Farukul Islam expressed his gratitude to the chairman and said, I am thankful to the chairman for evaluating my past activities in the team. I will try my best to fulfill the responsibility of the spokesperson as per the constitution of the party.