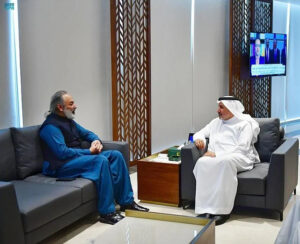 AN, RIYADH: The supervisor general of the King Salman Humanitarian Aid and Relief Center met with Pakistan's ambassador to the Kingdom in Riyadh on Monday.
During the meeting, Dr. Abdullah Al-Rabeeah and Ameer Khurram Rathore discussed topics of common interest related to humanitarian aid and relief.
The ambassador expressed his admiration for KSrelief's humanitarian work and its relentless efforts to help needy people and countries around the world.
The center has so far dispatched three convoys of essential food items to 17 flood-hit areas across Pakistan as the country experiences a record unbroken cycle of monsoon rains. The third convoy was delivered last Monday.
Since mid-June, rains and floods have affected 33 million Pakistanis, damaged one million homes and killed at least 1,061 people.