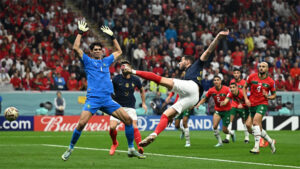 Sports Desk: Morocco had a succession of attempts at the France goal at the final five minutes of the first half, but the French have somehow held onto their one goal lead and are now potentially 45 minutes away from a World Cup final against Argentina on 18 December.
France took an early lead, thanks to Hernandez's sharp finish from inside the box.
As the minutes went on, Morocco looked more settled and at the final minutes of the first half came close to equalising multiple times. But till now, their attempts have fell short.