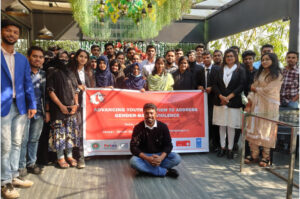 Moon Desk: A workshop organized by Parents Aging Foundation has been held in Narayanganj to ensure the participation of youth in stopping all forms of violence against women. It is jointly supported by the National Human Rights Commission, UNDP, CRI and Young Bangla.
Elected public representatives, health workers, representatives of various organizations, journalists, representatives of the market management committee and representatives of the transport sector participated in the workshop held on Friday at the Green Garden Party Center in Chittagong Road, Narayanganj.
Conducted by the founder and president of Parents Aging Foundation, Abdullah Al Zubair, 50 young health workers, members of various organizations, members of the bazaar owner committee participated in this workshop to discuss the causes, responsibilities and remedies for the harassment of women working as students, garment workers, industrial workers of Narayanganj educational institutions. come up. Dilruba Khanam, President of Parents Aging Foundation's Dhaka Division and General Secretary Abrar Shakif Khan and Narayanganj Branch President Sajjad Hossain were also present in the event.