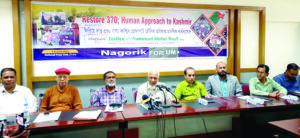 Faruk Ahamed, Magura: On the occasion of the 48th martyrdom anniversary of Bangabandhu Sheikh Mujibur Rahman, the architect of independent Bangladesh, free medical treatment and blood grouping was conducted by Zoka specialist doctor of Palashbaria Union of Magura Mohammadpur upazila. From 9 a.m. to 4 p.m. on Fridays, poor and helpless people are treated at Joka Government Primary School.
Bangladesh Awami League Science and Technology Affairs Subcommittee member, Bangladesh Awami League Magura District Branch Advisor, Bangladesh (IEB) Engineers Institution Vice President, Bangabandhu Engineering Council General Secretary, former Chief Engineer of Directorate of Public Health and Engineering Bir Muktijoddha presided over the free treatment and blood group testing ceremony. Nuruzzaman.
Magura Zilla Parishad Chairman and Bangladesh Awami League Magura District Branch General Secretary Pankaj Kumar Kundu were present as the chief guest on the occasion. Bangladesh Women's Awami League Magura District Branch and Bangladesh Jatiya Sangsad 310 Women's Constituency Former Member of Parliament Kamrul Laila Jolly were present as special guests.
During this time, experienced doctors of Bangladesh, India, and Nepal provided services to hundreds of patients in the community through free allopathic medicine and dispensed medicines of Beximco and The Acme Laboratories Pharmaceutical Company to the patients by prescription.