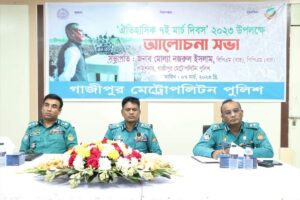 Md. Ashraful Alam Mondal, Gazipur: Gazipur Metropolitan Police holds discussion meeting at the headquarters on the occasion of historical 7th March. Gazipur Metropolitan Police Police Commissioner Molya Nazrul Islam, BPM (Bar), PPM (Bar) presided over the discussion meeting held on Tuesday. Additional police commissioners of GMP, other senior officers of GMP and policemen of various ranks were also present at this time.
In his speech, the President shed light on various aspects of the struggling life of the great architect of independence, the great hero of the liberation of the Bengali nation, the founder of our nation state, the father of the nation, Bangabandhu Sheikh Mujibur Rahman. He said that Bangabandhu Sheikh Mujibur Rahman has taken a strong role in any crisis of the Bengali nation since the partition of the country in 1947 until the independence of the country in 1971.
The police commissioner also said that Bangabandhu said on March 7, 1971, "You can't keep us under control". No one could keep Bangladesh under the leadership of Bangabandhu's daughter, Hon'ble Prime Minister. Bangladesh has proved to be a role model for development in the world.
He called upon everyone present to work on the ideals of Bangabandhu.