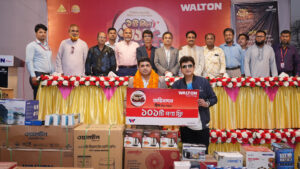 MOON Desk: Md. Jashim Uddin, a fertilizer and pesticide seller from Ramu upazila of Cox's Bazar, has got a total of 101 Walton products for free after he purchased a Walton brand refrigerator in installment facilities paying Tk.10,000 only as down-payment. Walton is providing the facilities to its customers under the ongoing 'Digital Campaign Season-17.' Jashim is the son of Abdul Quader from Dhoapalong village of Khuniapalong union.
Walton is conducting the 'Digital Campaign' across the country to accelerate the initiative of building customer database for delivering online based swift and best after sales service. Various benefits are given to customers to ensure their spontaneous participation in this process. Under the campaign's Season-17, customers might get 101 houseful free products or cash vouchers of up to Tk 1 lakh or sure gifts.
On Monday (March 6, 2023), Walton Plaza's Chief Executive Officer (CEO) Mohammad Rayhan, Walton Hi-Tech Industries' Deputy Managing Directors (DMD) Amdadul Haque Sarker and Humayun Kabir and Senior Executive Director popular actor Amin Khan officially handed over 101 free products to Jashim Uddin at a function at Walton Plaza in Moricha Bazar of Ukhiya upazila.
Local police officials, politicians, businessmen and other Walton high-ups were also present on the occasion.
Jashim Uddin said that he purchased a 220-liter refrigerator from Moricha Bazar Walton Plaza for his family on March 1. He received a SMS in his mobile phone from Walton with the notification of getting 101 free products upon registration of the fridge. Jashim's family burst into abound happiness after they have got the message from Walton.
The 101 free products included Walton fridge, AC, smart TV, washing machine, air cooler, microwave and electric oven, celling, pedestal, tornedo and rechargeable fans. Jashim carried those products to his village home loaded in a truck and his house is now full with Walton products.
Speaking on the occasion, Walton Plaza's CEO Mohammad Rayhan said: The lucky customer Jashim got 101 products at the inaugural day of digital campaign season-17 which we have handed over within a very short time. Walton always provides highest benefits to its customers. Walton Plaza is world's only organization that provides financial assistance, ranging from Tk 50,000 to Tk 300,000, to the families of hire purchase in case of death of the buyer. Walton is representing Bangladesh in global arena in the electronics and technology products sector.
He also said that Walton Plaza also launched one-stop service solution to provide customers with all kinds of information and services. Each of Walton Plaza is given three mobile phone numbers for this service. Just dialing the numbers, customers can buy products in cash payment or installment facilities and also get necessary after sales service. Besides, Walton Plaza provides up to 6-month installments facilities at zero interest rate.
DMD Amdadul Haque Sarker said: We will be developed if our country becomes developed. We should use domestic products more to take our country forward. The more we purchase Walton products, the more our country's economy will become stronger.