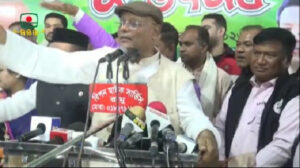 MOON Desk: Information and Broadcasting Minister Dr Hasan Mahmud on Thursday urged the businessmen to come up with a mentality of reducing prices of essential items in festivals like Ramadan, Eid and puja etc.
"Prices of essential times usually decline during festivals in almost all over the world. But, unfortunately the prices of necessary items increase during festivals like Ramadan, Eid and puja etc in our country. So, I urge the business associations including FBCCI and Chattogram Shilpa Banik Samity to reduce prices of essential items during the festivals," he said.
The minister was inaugurating the 30th Chattogram International Trade Fair (CITF) 2023 at Polo Ground this evening in the port city.
Urging the business associations to take steps against illegal hoarders, Hasan said the businessmen who would reduce the prices of products will have to be encouraged by the business organisations and rewarded if necessary.
The minister requested the businessmen to strengthen the hands of Prime Minister Sheikh Hasina for maintaining the current development spree of the country.
He said the country would reach its desired destination if Bangladesh is on the hands of Bangabandhu's daughter Prime Minister Sheikh Hasina. Country's businessmen did their business smoothly in the last 14 years, said Hasan, also Awami League joint general secretary.
He said BNP would carry out massacres like 2013, 2014 and 2015 if they get chance. Bangladesh is now marching ahead and per capita income has increased, he added.
Chattogram City Corporation Mayor Rezaul Karim Chowdhury, MA Latif, MP, FBCCI president Mohammad Jashim Uddin and fair committee chairman AKM Akther Hossain, among others, addressed the function with Chattogram Chamber of Commerce and Industries president Mahbubul Alam in the chair.