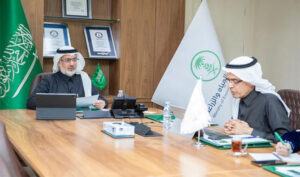 SPA, RIYADH: The International Dates Council recently held its second session via video conference, chaired by the Undersecretary of the Ministry of Environment, Water and Agriculture, Ahmed Al-Ayada.
The council's Executive Director Abdulrahman Al-Habib highlighted the main activities of the council during the previous session, which included organizing international forums and scientific meetings and participating in international conferences and exhibitions. He also reviewed the agreements signed by the council's secretariat with international Arab organizations.
During the meeting, the council's action plan for 2023 was approved. The plan features various projects and the formation of committees from member states and organizations, mainly the marketing and promotion committee, the technical committee, and the information, networks, and statistics committee.
The attendees thanked the Saudi government for sponsoring the council's $4 million budget for two years and hosting its headquarters in Riyadh. The participants also welcomed the membership of The Arab Center for the Studies of Arid Zones and Dry Lands.
The International Dates Council includes the membership of Saudi Arabia, the UAE, Tunisia, Sudan, Mauritania, Yemen, Oman, Palestine, Somalia and Lebanon.