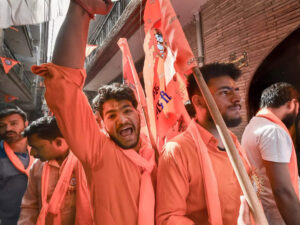 Muhammad Ullah: A few decades ago, anti-Muslim rhetoric by the Sangh Parivar mostly manifested itself through the criticism of the Central Asian sultans and emperors who invaded India, and by destroying the physical remnants of their rule, such as the Babri Masjid.
But today, Indian Muslims themselves are the target, violently hounded by thugs linked to the Sangh, as well as by functionaries of the state.
A number of recent incidents reported from India reflect a disturbing trend that shows no sign of abating. Perhaps the most abhorrent of these is the video doing the rounds of apparently Muslim men being flogged in a Gujarat village by police officers in civil dress.
The men were rounded up, tied to a pole and beaten with sticks as a crowd, including women and children, cheered on, after they allegedly threw stones at Hindu devotees during the Navratri festival.
A local police officer, speaking to Al Jazeera, indirectly confirmed that this mediaeval spectacle took place, saying that communal tension had been brewing when Muslims objected to Hindu festivities near a mosque.
Meanwhile, in Madhya Pradesh, the authorities demolished the homes of several Muslim men also accused of throwing stones at a garba pandal. This form of collective punishment has been in vogue, especially in states ruled by the BJP, to terrorise Muslims into submission.
Regarding these barbaric punishments, even if the men had been involved in disturbing the peace, we assume the Indian legal system still guarantees Muslims access to due process in order to defend themselves in courts of law.
Or has the BJP been inspired by the summary 'justice' of the Taliban and other fundamentalist outfits? Moreover, the use of bulldozers mirrors the terror Israeli forces unleash on hapless Palestinians in the occupied territories.
Clearly, the BJP is employing methods that make a mockery of human rights, sending the disturbing signal that Indian Muslims are not full citizens.
Rashtriya Swayamsevak Sangh (RSS) chief, Mohan Bhagwat, making the Hindutva outfit's intention clear about making India a Hindu Rashtra, has said that every person living in the country is a Hindu.
Addressing an event of RSS workers in Ambikapur city in the Indian state of Chhattisgarh claimed that the DNA of all Indians is the same and said that there was no need for anyone to change their way of offering rituals.
"We have been telling since 1925 (when RSS was founded) that everyone living in India is a Hindu," Bhagwat said.
It is to mention here that the RSS is forcefully implementing its Hindutva ideology in India ever since Bharatiya Janata Party government led by Narendra Modi came into power in 2014 to turn the country into a Hindu state. The persecution of minorities, particularly Muslims, has witnessed an alarming increase since then.