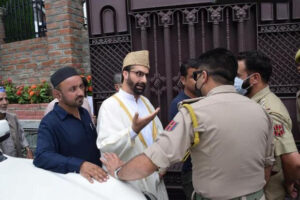 T Moon Desk: In Indian illegally occupied Jammu and Kashmir, the authorities' once again disallowed senior leader of All Parties Hurriyat Conference, Mirwaiz Umar Farooq, to offer the Juma prayers at historic Jamia Masjid, Srinagar.
Mirwaiz Umar Farooq has been under continued illegal house detention since 5th August 2019 when Narendra Modi-led fascist Indian government repealed the special status of IIOJK and imposed military siege in the territory.
Once again the authorities fearing that Mirwaiz Umar Farooq may move towards Jamia Masjid for prayers deployed Indian troops and police personnel in large numbers on both sides of the road leading to his residence at Nigeen in Srinagar, causing inconvenience to passers-by.
Meanwhile, Khateeb and Imam of the Jamia Masjid Srinagar, Syed Ahmed Naqshbandi addressing the Friday congregation at the grand mosque, today, strongly denounced the authorities for lying to people about Mirwaiz's release and making false promises of allowing him to come to Jamia Masjid to deliver the Friday sermon and offer prayers.
Addressing the gathering amidst great disappointment to people, who each Friday eagerly wait to see and hear the Mirwaiz after the Lieutenant Governor Manoj Sinha in an interview said that the Mirwaiz is free, the Imam asked the administration and police that despite giving assurances and making announcements to the Auqaf and people, why is Mirwaiz Umar Farooq still being detained? He urged the Lt Governor to walk his talk and release the Mirwaiz.
Anjuman Auqaf of Jamia Masjid in a statement in Srinagar said the religious and cultural sovereignty of the people of Kashmir is being undermined and trampled upon and keeping the Mirwaiz away from pulpit of the grand mosque seems to be part of that thought.