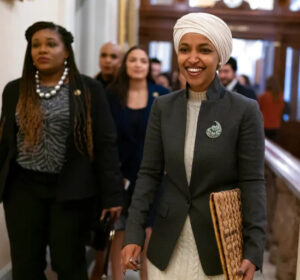 MOON Desk: The US House of Representatives recently held a vote which resulted in the removal of Democratic representative Ilhan Omar from a powerful committee due to comments that were criticized by various parties.
This decision comes after similar actions were taken against two far-right Republicans by Democrats in the past.
Former Somali refugee Ilhan Omar, the third Democrat to be stripped of committee assignments by Republicans this year, has made several comments critical of Israel since 2012 that were condemned on all sides.
"I am a Muslim, I'm an immigrant and, interestingly, I'm from Africa," the 40-year-old Minnesota progressive said in a defiant floor speech ahead of her removal from the Foreign Affairs Committee.
"Is anyone surprised that I'm being targeted? Is anyone surprised that I am somehow deemed unworthy to speak about American foreign policy?"
The roughly party-line vote came after Speaker Kevin McCarthy, the top Republican in Congress, kept a campaign promise to deny seats on the prestigious the Intelligence Committee to Adam Schiff, the panel's last Democratic chairman, and Eric Swalwell.
McCarthy has argued that Democrats created a "new standard" when they were in control by ousting Republicans Marjorie Taylor Greene and Paul Gosar from committees after they promoted violence against political opponents.
Omar, one of two Muslim women in Congress, apologized in 2019 for suggesting Republican support of Israel was fueled by donations from a pro-Israeli lobby group.
Democrats, who were then in power in the House, initially mulled supporting a resolution to admonish her, but settled on text condemning anti-Semitism that didn't mention her by name.
Five years earlier, before entering Congress, she said Israel had "hypnotized the world," and urged people to open their eyes to the US ally's "evil doings."
She has since said she was unaware at the time of her remarks of the anti-Semitic tropes that invoke Israelis hypnotizing people and connect Jews to money.
House Democratic minority leader Hakeem Jeffries told a news conference ahead of the vote that Omar's comments had already been dealt with.
"So this is not about accountability. It's about political revenge," he said.
The Democrats – supported by a handful of Republicans – voted in 2021 to punish Greene for incendiary statements including repeated support for executing prominent Democrats. Gosar's censure came after he posted an animated video manipulated to show him killing a left-wing congresswoman.
Both have spoken at a white nationalist conference, and Greene apologized in 2021 for comparing mask-wearing rules in the US Capitol to the Holocaust. The pair were given committee assignments after Republicans took back the House last month.