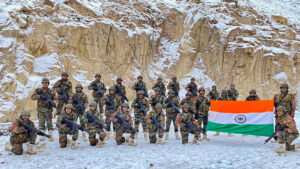 Md Jubair: A security assessment by Indian police in the Himalayan region of Ladakh says there could be more clashes between Indian and Chinese troops along their contested frontier there as Beijing ramps up military infrastructure in the region
The assessment is part of a new, confidential research paper by the Ladakh Police that was submitted at a conference of top police officers held from January 20 to 22 and has been reviewed by Reuters.
At least 24 soldiers were killed when the armies of the Asian giants clashed in Ladakh, in the western Himalayas, in 2020 but tensions eased after military and diplomatic talks.
The report also said India has been slowly losing ground to China in Ladakh as the border has been pushed inside Indian Territory through the creation of buffer zones.
India and China share a 3,500 km (2,100 miles) border that has been disputed since the 1950s. The two sides went to war over it in 1962.