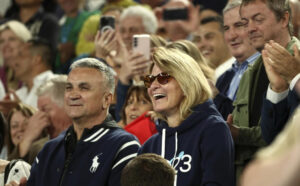 Moon Desk: Australian Open chief Craig Tiley on Saturday advised Novak Djokovic's family to be "really careful" of people using the tournament's global exposure as a platform for "disruptive" purposes.
It follows a video posted on a pro-Russian YouTube account showing Djokovic's father Srdjan posing in Melbourne Park with a fan holding a Russian flag that featured the face of Vladimir Putin.
It sparked a backlash from Ukraine and led to calls for Djokovic senior to be banned from the tournament.
He decided to skip his son's semi-final victory on Friday and it remains to be seen if he will be at Sunday's final.
Tiley told the Melbourne Age newspaper he had spent "a fair amount of time talking to the Djokovic family".
"My advice is that you have to be really careful because if this is an event of global significance, it's a platform," he said he told them.
"When you have hundreds of thousands of people come through the gate, you're going to naturally have some people that are coming here with an intention to be disruptive, and don't get yourself caught in the middle of that.
"And they completely understand that," he added. "The family were very good. They were upset that it was taken that way. There was no intention of it.
"His dad particularly does not support war and they're very focused on supporting peace."
Serbian star Djokovic insisted after his semi-final win there had been a "misinterpretation" of the images and his father had "no intention whatsoever to support any war initiatives".
He said his father had been greeting fans outside Rod Laver Arena after every match and had been "misused" on Wednesday night.
Tiley said the Open had more than 1,000 accredited journalists and growing TV audiences and "it does become a platform and that's new for us. It never used to be like that".
Since Russia's invasion of Ukraine last year, Russian and Belarusian players have normally competed under a neutral white flag as independents, as is the case at the Australian Open.
Spectators have been banned from having Russian or Belarusian flags at the Grand Slam after Ukraine's ambassador to Australia and New Zealand demanded action when they were seen among the crowd early in the tournament.