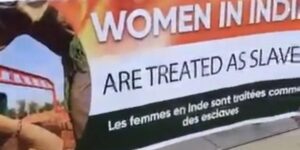 Muhammad Ullah: The Ministry of External Affairs (MEA) in New Delhi lodged a protest with the Government of Switzerland after posters alleging child marriages and religious persecution in India appeared in front of the United Nations building in Geneva in the Central.
Berne's envoy to New Delhi, Ralf Heckner, was on Sunday summoned to the MEA, where Secretary (West), Sanjay Verma, conveyed to him the concerns of the Government of India over some posters that appeared before the United Nations building in Geneva.
A video of the posters was circulated on Twitter. The posters highlighted allegations of child marriages, lynching of minorities and "state-sponsored terrorism" against Christians in India. The posters read: "Indian Dalits: Children of Lesser God".
"India: Shun Religious Extremism", "India: No to Terror Attacks on Minorities" and "India: Stop Burning Churches". Verma conveyed to Heckner New Delhi's view that the contents in the "anti-India posters" were "unfounded" and "malicious",
According to the sources, Heckner told Verma that he would convey New Delhi's concerns to Berne with all the seriousness it deserved, sources added. He also said that the posters appeared in a space provided to all. He, however, added that the contents of the posters in no way reflected the position of the Swiss Government.