Indian army orders ex-servicemen to shut mouth on 'service life, conditions and privileges'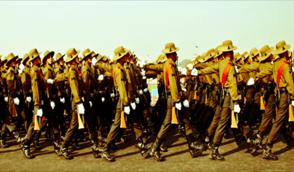 MOON Desk: Indian army is reportedly facing an upheaval of such a serious nature that it had to issue a notice to ex-servicemen warning them that cases against them could be initiated under mutiny charge if they continue to share videos and posts "inciting and converging public opinion on matters related to service life, service conditions and service privileges".
A letter, issued by the Discipline and Vigilance branch of the Indian Army, said, "The internal reports received in the organisation have warned of such videos to be detrimental to the image of Army, being defamatory in nature" adding that "if the trend for such content is not arrested, it may further go on to become news for national and international media".
The letter which has been sent to the Army's Command said that certain videos could spread "false narrative, which has the potential to create officer-men rift and if left unchecked, it may create mistrust and disharmony amongst the ranks and file". The ex-servicemen have been reminded about the provisions of the Indian Penal Code and also those under which their pension could be stopped.
"In the recent past, several instances have come to light where the conduct of some ex-servicemen has tarnished the Army's image", the letter said and added that "Some posts aim at inciting and converging public opinion on matters related to service life, conditions and privileges."
The posts are getting reported in local media and the Army fears it would be a matter of time before national media takes note of these. The Army has asked the local military commanders to sensitise ex-servicemen on the issue. The letter reminds the ex-servicemen about Section 131 of the Army Act, 1950, which entails life imprisonment for anyone "abetting committing of mutiny by an officer or a soldier".
The speech used in such campaigns is found to be mostly hateful, always malicious and potentially mutinous…. Other than being malicious and misleading, the social media posts influence the mindset of the public and, thereby, can have serious ramifications, which may cause a divide in the organisation," the letter warns.