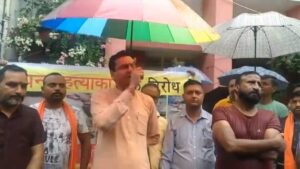 Moon Desk: Hindutva leader and general secretary of the Hindu Jagran Manch Kamal Gautam, notorious for his diatribe against Muslims and his incendiary statements against religious minorities, has again delivered a hate speech recently in Bilaspur, Himachal Pradesh.
Addressing a public gathering, Gautam used derogatory language against minorities and made threats of violence, raising concerns over peace and communal harmony in the region.
Gautam made statements such as "Bharat mein agar rehna hoga, Jai Shri Ram Kehna Hoga" (If you wish to stay in India, you have to say Jai Shri Ram) and "Islamic Jihad Murdabad" (Death to Islamic Jihad). These hateful statements, construed as a dire threat to religious minorities, are posing a threat to communal harmony in the state.
Videos of the event were brought to light on Friday by Hindutva Watch, a research initiative to monitor reports of attacks on members of religious minorities in the country.
Furthermore, Gautam again raked up the fictitious 'Love Jihad' theory claiming that young girls of the state were becoming targets of a conspiracy hatched by Muslims. He warned those providing shelter to the people involved in this practice that the Hindu community won't tolerate these 'misdeeds'. He ominously stated that these actions would be responded to in the only way "they" understand, implying a potential recourse to violence.
The long arm of the law has yet to reach the Hindutva leader even as hate speech laws in India prohibit statements that promote enmity between different religious or ethnic groups.
Gautam is not new to making communally charged statements. A recent video, circulated on social media platforms, particularly in Hindutva circles, shows a mob vandalising a Muslim shrine or dargah. The individuals involved in the act claimed to be affiliated with the Hindu Jagran Manch, as stated by Kamal Gautam, who posted the video on his Facebook page.
The video showed individuals wielding massive hammers to destroy the shrine.
Gautam's social media posts wholeheartedly support Prime Minister Narendra Modi and the Bharatiya Janata Party (BJP). They have a pronounced anti-Muslim tilt as well.