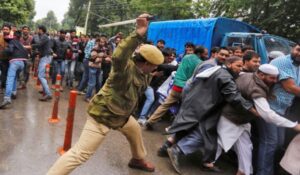 Moon Desk: India has been making attempts since long to project a false sense of normalcy in Indian illegally occupied Jammu and Kashmir (IIOJK) and change its demography.
Since April 2021, new domicile rules have been adopted and over 3.2 million Indian citizens were issued domicile certificates in the occupied territory by the Indian government, which was also confirmed by Indian Minister for Culture & Tourism G Kishan Reddy, , said a report released by the KMS, today.
It said India violates Article 2 of the Genocide Convention and Article 49 of the Fourth Geneva Convention which prohibits occupying forces to "transfer parts of its own civilian population into the territory it occupies."
It also violates 85(4) (a) Additional Protocol I, ICC Statutes Article 8(2) (b) (viii) and 22 (3) (b) of the International Law Commission's Draft Code of Crimes against the Peace and Security of Mankind, it added.
Above all, the report said, Indian actions in IIOJK violate the United Nations Security Council resolution. The demographic changes prepare the ground for settlements on the pattern of the Israeli settlements on Palestinian land, it deplored.
Two human rights experts, Fernand de Verennes and Ahmed Shaheed of UNHRC have also expressed grave concerns over the demographic changes being made by BJP-RSS regime in occupied Kashmir, the report maintained.
It said the increase of five electoral seats of Jammu whereas only one in Kashmir valley is an attempt to change demography. Massive investment is being diverted to entrepreneurs to make them a part of this settlement process, it added. It said special colonies have been established in IIOJK for army personnel, Pandits and former Indian civil servants and recently 'Delimitation Commission' headed by Justice (Retd) Ranjna Parkash visited IIOJK from 2-5 April 2022, held consultations with locals, civil society members and political parties before making its final draft public by 6th May 2022.
The aim of Delimitation Commission, it said, is nothing, but to pitch the people against each other ignoring the population census. The IIOJK's main regional parties, including the National Conference and the Peoples Democratic Party, have rejected the recommendations of the panel terming them 'biased' and 'unacceptable'.