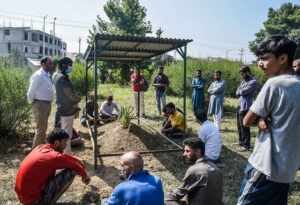 Qazi Mizan: History testifies that nobody died who influenced human thoughts and whose life was dedicated to some cause and who sacrificed for freedom, Syed Ali Gilani does not die and he just disappear physically but his thoughts remain a beacon of hope for the Kashmiri youth.
Syed Ali Gilani embraced martyrdom under Indian Police custody on 01 September 2021 at his residence in Hyderpora, Srinagar. He was kept under continued house arrest for over a decade by Indian forces but they failed to snatch the thought of Freedom and resistance away from him.
A frail-body Gilani was strongest than over a million personnel of Indian occupied forces therefore he remained a symbol of fear for Indian forces even after his physical death who had forcibly taken away the dead body of Syed Ali Gilani for burial at Hyderpora graveyard under heavy military siege at night in violation of the last will of the veteran leader.
As the family was preparing for the last rites of Syed Gilani, a heavy contingent of Indian Occupation Forces raided his residence in Srinagar, harassed family members and took away Syed Gilani's body. Indian government was afraid of Gilani's leadership abilities during his entire life and resorted to the inhuman act even after his death. Indian authorities had put strict restrictions on people's movement and the whole area was cordoned off.
Indian government tried to justify its barbaric action of burying Syed Ali Gilani as necessary to maintain law and order situation, however people of Kashmir termed it as a blatant act to human rights abuse.
On the other hand, family and other Kashmiri leaders described it as a matter of extreme prejudice against the role of iconic Kashmiri leader's struggle for the rights of Kashmiri people.
Kashmiri leadership termed it as an Indian effort to punish the Muslim population. The serious human rights abuse by Indian government in case of performing of last rites and burial of 92 years old veteran Kashmiri leader was condemned by OIC and covered by important international news agencies and papers like Reuters, Washington Post and France 24.
Pakistan also condemned India's 'barbaric act' of snatching Syed Ali Gilani's body. APHC have reaffirmed the Kashmiri people's resolve to continue the mission of the veteran Hurriyat leader, Syed Ali Gilani, and appealed to the people of IIOJK to march towards Hyderpora in Srinagar on 01 September 2022 to pay tribute to the icon of the Kashmir resistance movement, Syed Ali Gilani, on his first martyrdom anniversary.