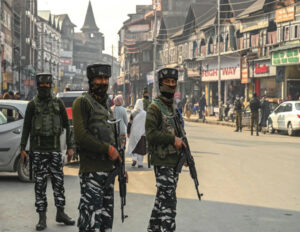 Md Jubair: The local population of IIOJK is still being subjected to coercive measures by the Indian government. In December 2022, The J&K Land Grant Rules (LGR)-2022 were announced by Lieutenant Governor IIOJK, replacing Land LGR-1960, which dealt with the special rules to grant government land on lease- This was done in order to continue its oppressive policies. No land may be leased to a person who is not a permanent resident of the State, according to LGR-1960. Leases will now be granted for 40 years rather than 99, and when an existing landowner's lease expires, it won't be renewed. In order to avoid being evicted under the new laws, the government has ordered the departing leaseholders to evacuate buildings. All properties with expired leases will be listed by an expert committee established by the Indian government. It will be put up for open bidding in a new electronic auction. Hundreds of homes are now up for new auction under the new guidelines, and anyone can bid. Omar Abdullah, vice president of the National Conference, described it as "unfortunate and intended to settle foreigners."
Iqbal Tramboo, the leader of the PDP, alleged that the action was meant to "harm local businesses and their interests" by luring wealthy outsiders into J&K to purchase prized real estate. People in IIOJK expressed concern that, given the precarious state that company houses were in after 30 years, no local could participate in the e-auction. There is a widespread misconception that only the wealthy from the outside will purchase these properties, forcing the locals who now own them to sell their own homes. According to economic analysts, the illegal Indian action is yet another significant HR breach, will result in seven lakh residents losing their jobs, and will have a detrimental impact on Kashmir's economy in general.
The electoral system in IIOJK is also being manipulated by India. The Modi government is attempting to shift the demographics of the predominantly Muslim region by adding 2.5 million new voters by changing the voting rules of Occupied Kashmir. The decision was biased in favour of Jammu, which has a significant Hindu population, and critics claim the government disregarded the accepted practice of taking the population into account when allocating electoral seats. People who have lived in Jammu for a year or longer and want to register to vote can do so, according to the Indian government. In order to accomplish the goals of the coercive action, eligible residents have been required to present official documents as proof. Those without a dwelling permit will have their addresses checked at home. The Indian government recently passed a contentious rule on domicile that gives citizenship to all Indians who have lived in the area for more than 15 years. Additionally, new legislation was passed that makes all Indian citizens eligible to purchase land in the area. Increased troop deployment, seizure of economic resources, and gerrymandering are unlikely to win over the hearts and minds of the populace; instead, they are likely to exacerbate feelings of exclusion, resentment, and mistrust. The lives of Kashmiris are in grave danger because of India. From the worst human rights abuses to economic suffocation, Kashmiris bear the burden of India's ongoing atrocities.