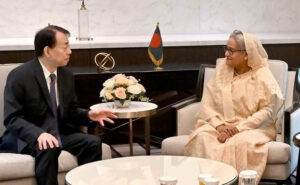 MOON Correspondent: Prime Minister Sheikh Hasina on Tuesday sought more cooperation from Asian Development Bank (ADB) for the development of Bangladesh mainly its education, skill enhancement and infrastructures.
She called for the support when a visiting delegation of ADB led by its President Masatsugu Asakawa paid a courtesy call on her at Hotel Intercontinental Dhaka.
Prime Minister's Speech Writer Md Nazrul Islam briefed reporters after the meeting.
During the meeting, Sheikh Hasina said Bangladesh is emphasizing education, skill development and infrastructures, seeking more cooperation for various projects including those.
Talking about stipends and mid-day meal programmes for school students, she urged the ADB to come forward in this regard.
The premier also reiterated her call to choose a vice president for ADB from Bangladesh.
She extended her thanks to the regional development bank for always standing beside Bangladesh, particularly during the tough times, and for assisting the economic uplift of the country.
Masatsugu Asakawa said ADB as a reliable partner has been working with Bangladesh since 1973.
"ADB will continue to work more closely with Bangladesh. This partnership will be strengthened further in the days to come," he said.
He also said ADB will stand beside Bangladesh during its desired journey towards becoming an upper middle-income country by 2031 and a developed, prosperous and smart Bangladesh by 2041.
The ADB chief appreciated the macroeconomic management of Bangladesh in facing the fallout of the Covid-19 pandemic and Russia-Ukraine war, and the impressive socio-economic development of Bangladesh under the leadership of Prime Minister Sheikh Hasina.
He highly praised Bangladesh for successfully tackling the Covid-19 pandemic by balancing lives and livelihood.
Finance Minister AHM Mustafa Kamal, PM's Principal Secretary M. Tofazzel Hossain Miah, Senior Secretary of Finance Division Fatima Yasmin, ERD Secretary Sharifa Khan and Country Director of Asian Development Bank to Bangladesh Edimon Ginting were present.
Earlier, Oman's Ambassador to Bangladesh Abdul Ghaffar Albulushi paid a courtesy call on Prime Minister Sheikh Hasina at the latter's official residence Ganabhaban in the morning.
During the meeting, the prime minister called upon Oman to strengthen energy cooperation, enhance trade volume with Bangladesh as well as recruit skilled workforce, and import agricultural goods from it.
She also urged the gulf country to enhance the LNG supply to Bangladesh from the existing 1.5 million tons per year.
Sheikh Hasina said there is a scope to raise trade volume between the two countries. Oman can import agro-products including fish, meat, rice, vegetables and jute-goods (from Bangladesh), she said.
She also urged Oman to recruit skilled labour including IT experts, doctors and nurses from Bangladesh.
"We are ready to provide for you," Sheikh Hasina said.
Currently some 5.5 lakh Bangladeshis are working in Oman.
The Oman ambassador requested the prime minister to expedite the process for the refined petroleum product supply from Oman under the government-to-government system.
He said Oman National Oil Company is already sent a request letter to Bangladesh Petroleum Corporation in this regard.
PM's Ambassador-at-large Mohammad Ziauddin and PM's Principal Secretary M. Tofazzel Hossain Miah were present at the meeting.