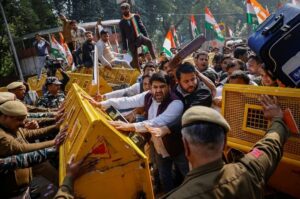 Qazi Mizan: The crisis engulfing the Adani Group intensified on Monday as hundreds of members of India's opposition parties took to the streets to press for a probe into allegations by a US short-seller against the conglomerate which triggered its market rout.Shares in billionaire Gautam Adani's companies have been in free-fall since a Jan 24 critical report by Hindenberg Research, with group cumulative market losses now topping $110 billion, sparking fears of wider financial contagion.
Opposition parties, who last week called for a parliamentary panel to investigate the saga and disrupted proceedings, have questioned Indian Prime Minister Narendra Modi's closeness with Adani.Protesters on Monday also expressed anger about investments made by state-backed Life Insurance Corporation (LIC) and State Bank of India (SBI) in the Adani Group.Adani has rejected in detailed rebuttals the Hindenberg report's allegations of stock manipulation, use of tax havens and criticism that it had unsustainable debt.
The billionaire and Modi are from the same state and Adani has repeatedly denied allegations by Modi's opponents that he had benefited from their close ties. Modi's government too has denied allegations of favouring Adani.
At New Delhi's Jantar Mantar, a Mughal-era observatory that doubles up as a protest site for all causes, protesters held up banners and shouted slogans against Adani. Some broke through barricades, forcing the police to detain them."Common man has invested his money in a businessman's (Gautam Adani) company and the government is trying to save him. The government is supporting the businessman (Adani) and not the common man," Uttar Pradesh Congress Committee General Secretary Shiv Panday was quoted as saying by ANI news agency.
Hundreds of members of the Congress party protested across the country, including outside several offices of state-owned insurer Life Insurance Corporation (LIC) and State Bank of India (SBI), both of which have exposure to Adani group companies.At Jantar Mantar some burnt a suitcase with an SBI logo on it. In Mumbai, a protester held a placard with Adani's photo and the LIC logo, explaining with a bar chart "How much has LIC invested in Adani Group".LIC holds a 4.23% stake in the flagship Adani firm, while its other exposures include a 9.14% stake in Adani Ports and 5.96% in Adani Total Gas. SBI said last week its total exposure to Adani Group was 0.9% of its total loan book, or around 270 billion rupees ($3.30 billion).LIC and SBI did not respond to a request for comment.
Separately, a move by Adani Group on Monday to calm investor nerves failed to stem the market rout. It said it would pre-pay loans of around $1.1 billion taken against pledged stocks in Adani Ports and Special Economic Zone, Adani Transmission and Adani Green Energy, allowing it to get back the shares.Shares of Adani Enterprises closed down 0.9% on Monday after sinking as much as 9.6% in early trade. Adani Transmission dropped lost 10%, while Adani Green, Adani Total Gas Ltd, Adani Power, and Adani Wilmar fell 5% each.Adani Ports rose 9.3%, the only stock to buck the trend.