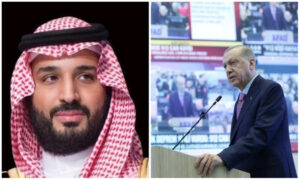 MOON Desk: Saudi Arabia's Crown Prince Mohammed bin Salman offered his condolences to Turkiye's President Recep Tayyip Erdogan and people after an earthquake rocked the country on Monday.
The major earthquake struck Turkey and Syria, killing more than 2,600 people and flattening thousands of buildings as rescuers dug frantically for survivors.
Prince Mohammed also offered his condolences to the families of victims and wished the injured a speedy recovery.
He added that the Kingdom stands with and supports Turkiye in the face of the natural disaster.
Erdogan thanked the crown prince and said he appreciates the Kingdom's support in these difficult circumstances.
Multi-storey apartment buildings full of residents were among the 3,400 structures reduced to rubble in Turkey, while Syria announced dozens of collapses, as well as damage to archaeological sites in Aleppo.