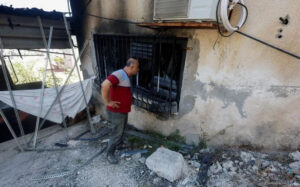 A Palestinian man checks a damaged building following an Israeli raid in Jenin, in the Israeli-occupied West Bank, Sept. 28, 2022. (Reuters)
MT Desk: Israeli forces said they shot dead two Palestinians suspected of involvement in recent gun attacks
Two more were killed and 44 injured as residents protested against the incursion
RAMALLAH: Four Palestinians were killed and dozens injured, some seriously, during an Israeli military raid early on Wednesday in the Jenin refugee camp in in the occupied West Bank.
Israeli forces said they shot dead two Palestinians suspected of involvement in recent gun attacks. Two more were killed and 44 injured as residents protested against the incursion.
Video footage showed plumes of smoke billowing from a house in the camp, apparently after an explosion. In the streets, men sheltered behind cars as heavy gunfire could be heard.
President Mahmoud Abbas' Fatah party said one of the men killed in the clashes was Ahmed Alawneh, a 24-year-old intelligence officer.
The party added that the incursion was a "dangerous escalation." It called for demonstrations to honor the "heroic martyrs" and "unify the battlefields against the Israeli occupation that is trying to single out and isolate Jenin."
Thousands later participated in the funeral of the four dead amid chants calling for revenge.
Maj. Gen. Akram Rajoub, Jenin's governor, told Arab News that the Israeli army used excessive force and intended to kill.
He said the two wanted men died in the yard of a house that had been surrounded by Israeli soldiers, despite possessing no weapons and showing no resistance.
Mohammad Shtayyeh, the Palestinian prime minister, called for the men's killers to be prosecuted by the International Criminal Court. Mosques announced mourning and a general strike in Jenin and Nablus.
Ninety Palestinians have been killed by the Israeli army in the West Bank since the beginning of this year.
The Popular Front for the Liberation of Palestine said the killings showed that "this occupation, which practices terrorism in all its forms against our Palestinian people," understands only force.
Nabil Abu Rudeineh, spokesman for the Palestinian presidency, said the "dangerous Israeli escalation" would not give legitimacy, security or stability to Israel.
He added that Israel is an international pariah and that the US, its principle ally, has lost credibility with its continued calls for calm while Palestinian lives, land and holy sites are being destroyed.
"The occupation still insists on crossing all red lines, whether in Jerusalem, Jenin, Nablus or the rest of the occupied Palestinian territories," he said.
Hazem Qassem, a Hamas spokesman, said the "terrorism of the occupation" would not break Jenin's determination, and "the fall of the martyrs becomes fuel for the resistance."
He added that the battle against Israel will continue until it is expelled from all Palestinian land.
Israel accused Hamas of stoking tensions in the West Bank, claiming that an explosive device was detonated when its soldiers tried to arrest the wanted men in Jenin and that both died in an exchange of fire.
Hamas was also accused by Israel of stoking Palestinian resistance at the Al-Aqsa compound in East Jerusalem, which has been stormed by Jewish settlers for three consecutive days.