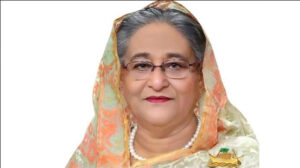 Moon Desk : Prime Minister Sheikh Hasina has said everyone needs to understand the reality that the forcibly displaced Rohingyas are becoming a huge burden for Bangladesh and they must go back home.
"They (Rohingyas) need to go back to their own country. Everyone needs to understand (the situation). —it is not possible for us to take any more people, Rohingyas must go back," she said in an interview with the Bangla service of Voice of America (VoA) in Washington which was broadcast on Tuesday.
Referring to Bangladesh`s repeated call to the international community for safe and sustainable rehabilitation of the Rohingyas, she said it is impossible for a country alone to take responsibility for such a huge population (1.2 million Rohingyas).
"Not only giving shelters but also arranging livelihoods for such a huge population is a great responsibility which no country can shoulder alone," she said.
She mentioned that the entire world has now been rattled due to the Russia-Ukraine war, sanctions, counter-sanctions and the ongoing Covid-19 and the prices of essentials are skyrocketing which put the global people in immense suffering.
"Those who came forward to help (Rohingyas), are now facing troubles over their own survival," she said, adding that how much Bangladesh could do for the Rohingyas when this country has a huge population and it has to think of its people.
The Prime Minister said the children and teens of the Rohingya community are now brought up in a vast slum (Rohingya camp) where the scope of raising with humanitarian values and with sound health is very limited.
Bangladesh is not in a position to take any more people from Myanmar, she said, adding that Rohingyas should go back to their own country.
The Prime Minister said the prolonged stay of the Rohingyas in Bangladesh destroyed forests in Cox`s Bazar.
Alongside destroying the natural beauty, the huge numbers of Rohingyas caused immense suffering to the locals while the arable lands of the locality are declining sharply, she said.
Besides, she said, many Rohingyas have got involved in the smuggling of drugs and arms smuggling alongside human trafficking and they have been involved in conflicts within themselves inside the camps.
About giving shelter to such a huge number of Rohingyas, the premier said she has given shelter to the Rohingyas thinking about the agony of the people of then Pakistan (now Bangladesh) when they had gone through inhuman tortures, including killings and rapes, during the Liberation War of 1971.
"We saw sufferings (in 1971) with our own eyes," she said.
In this context, the Prime Minister also recalled her younger sister Sheikh Rehana`s appeal to shoulder responsibilities of several lakh people (Rohingyas) alongside 16 crore Bangladeshis.
"Can`t you take responsibilities of several lakh people in addition to your 16 crore countrymen," she said, quoting Sheikh Rehana as saying.
The Prime Minister said she replied in affirmative, saying that if necessary the Bangladeshi people would take one meal a day and share another meal with the Rohingyas.
She said Bangladeshi people, particularly the leaders and activists of the Awami League, stood beside the Rohingyas with plenty of food while the international community later came forward and started to help the Rohingyas.