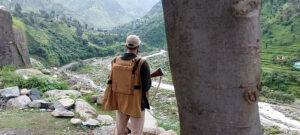 Md Jubair: The Jammu and Kashmir legislative assembly attack was carried out in October 2001. An explosive-laden vehicle was rammed into the main gate of the building located in Srinagar in which 38 people killed and numerous injured. Indian government made Kashmiri Freedom fighters responsible for the attack sponsored by Pakistan.
Pakistan was accused of being the perpetrator of violence for almost every act of terror in India, irrespective of their complex and prolonged internal factors, but Indian government failed to provide any evidence of Pakistan's involvement in these terror attacks.
The question arises that was it a mere coincidence or a pre-planned execution that no legislator was killed besides that many senior leaders had already left the building.
India is habitual of using false flag operations as a tool of coercion to provoke or justify a war against adversaries.
India perpetually resort of immoral activities like deceit, fraud, propaganda and state sponsored terrorist attacks killing their own people for serving political interests.
German Investigative Journalist Elias Davidson in his book, "The Betrayal of India: Revisiting the 26/11 Evidence" highlighted that India has history of false flag operations from 1971 to till today.
When India feels, it is not being able to cope up internal rift, Indians launch a false flag operation for political gains. India endorsed this agenda in front of International Statuary platforms with an aim to label Pakistan as a terrorist-sponsoring country but failed to prove it on all forums.
India is still trying to construct a narrative to declare Pakistan as a troublemaker in the region; however, by doing so the Indian government is itself jeopardizing the stability of the South Asian region to serve this purpose.
World should come forward and It is time that Indian false flag operations must be exposed and ended downright. Otherwise, the dangers of such false flag operations in this highly nuclearized zone could develop into something beyond imagination of any.