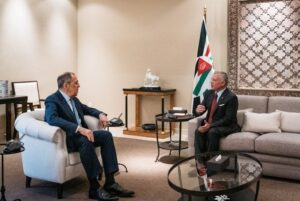 Jordan's King Abdullah during his meeting on Thursday with Russian FM Sergey Lavrov in Amman. (Petra)
AN, AMMAN: Jordan's King Abdullah on Thursday called for intensified efforts to reach a political solution to the crisis in Syria.
Receiving Russian Foreign Minister Sergey Lavrov in Amman, Jordan's ruler highlighted the importance of stabilising Syria, especially southern areas of the country, the Jordan News Agency reported.
During their meeting he also noted the need to safeguard Syria's unity and territorial integrity, while guaranteeing the safe and voluntary return of refugees.
The meeting covered the challenges facing Jordan due to the Syrian crisis, including organized drug-smuggling attempts.
King Abdullah and Lavrov discussed bilateral ties and the latest regional developments of mutual concern.
Discussions also covered the Palestinian cause, and efforts to resume serious and active negotiations to achieve just and comprehensive peace on the basis of the two-state solution.
King Abdullah said Jordan will continue its efforts to safeguard Islamic and Christian holy sites in Jerusalem, under the Hashemite Custodianship.
The meeting covered efforts to resolve the crisis in Ukraine and address its implications.