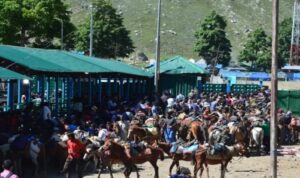 Moon Desk: In Indian Illegally Occupied Jammu and Kashmir, Kashmiri people continue to bear brunt of ongoing militarized and communal Hindu pilgrimage, Amarnath Yatra, in form of intensified raids, crackdowns and search operations by occupied Indian forces.
Sleuths of Special Investigation Unit along with personnel of Indian army, Central Reserve Police Force and police raided several houses right from Kishtwar and Ramban districts in Jammu region to Srinagar, Ganderbal, Islamabad, Pulwama, Shopian, Kulgam and Bandipora districts in the Kashmir valley.
Meanwhile, All Parties Hurriyat Conference Vice Chairman, Ghulam Ahmed Gulzar, in a special message released in Srinagar in connection with the upcoming 7th martyrdom anniversary of Burhan Wani said that popular martyred youth leader was a symbol of resistance against the Indian repression in occupied Jammu and Kashmir.
President of Peoples Democratic Party Mehbooba Mufti, in an article published by a web portal said justice has lost its meaning to the Kashmiri people since Modi regime abrogated the special status of the occupied territory on August 05, 2019.
On other hand, growing popularity of Khalistan Movement has frustrated the Narendra Modi-led Indian government so much so that New Delhi has to request US, Canada, UK and Australia not to give space to the Sikh activists on their soils.
Meanwhile, APHC leader Mir Shahid Saleem in a statement in Jammu said the Bharatiya Janata Party-led regime is promoting alcohol consumption in Muslim majority areas in Jammu region to target Islamic values.
In Jammu, National Panthers Party led by Harsh Dev Singh staged a protest at Gol Market in Udhampur against unprecedented price hike triggered by Modi regime's failed economic policies in occupied territory.
On the other hand, the All Parties Hurriyat Conference spokesman in a statement in Srinagar has appealed the people to observe shutdown on Thursday to commemorate the martyrdom anniversary of 22 Kashmiris who were martyred by Dogra armed forces on that day in 1931.
The spokesman also appealed to the freedom-loving people to conduct a march towards the Mazare Shuhada, Naqshband Sahib, Srinagar, to offer Fateha for July 13 martyrs.