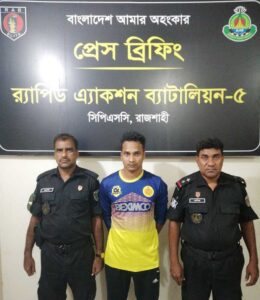 Rajshahi Bureau: Members of Rapid Action Battalion (RAB) arrested an alleged top listed terrorist on charge on his involvement in kidnapping a schoolgirl in the district last night.
The arrested person was identified as Mehedi Hassan, 25, son of Ibrahim Ali of Laskerbati village under Godagari upazila in the district.
RAB sources said the person in accomplice with some of his friends kidnapped a schoolgirl while she was returning to her house from a private tutor of the same village and took her to an unknown destination on October 4 last.
Subsequently, a case has been lodged with Godagari Model Police Station.
On a tip-off, a team of the elite force conducted a sudden raid at the Laskerhati village and rescued the girl and arrested the kidnapper at around 10.30 pm on Thursday.