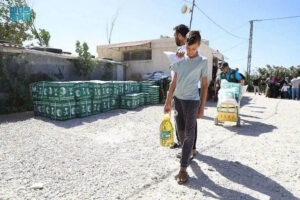 MOON Desk: The King Salman Humanitarian Aid and Relief Center (KSRelief) distributed 3,147 food baskets, 96 shelter tents and 700 mosquito nets to people affected by floods in Pakistan.
The relief items benefited 22,064 individuals in the Khyber Pakhtunkhwa province, Gilgit-Baltistan province, Baluchistan province and Azad Kashmir province.
Meanwhile, 700 food baskets were delivered to 3,895 Syrian and Palestinian refugees in Lebanon's West Bekaa region.
The initiative is part of KSRelief's ongoing efforts to support food security for Palestinian and Syrian refugees, in addition to the host community in Lebanon.