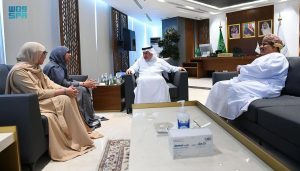 The supervisor general of Ksrelief Dr. Abdullah Al-Rabeeah talks to Omani former conjoined twins Safa and Marwa whom he operated on previously. (SPA)
AN, RIYADH: The supervisor general of the King Salman Humanitarian Aid and Relief Center received on Wednesday a set of Omani former conjoined twins whom he operated on in 2007.
Dr. Abdullah Al-Rabeeah met with Safa and Marwa Muhammad bin Nasser Al-Jardani and their parents at the KSrelief headquarters in Riyadh.
The twins underwent successful surgery to separate adhesions in their skulls, brain membranes, and intervening veins at King Abdulaziz Medical City in Riyadh fifteen years ago.
Al-Rabeeah said Saudi Arabia's program to separate conjoined twins enjoys a high international status that would not be possible without the support of the Kingdom's leadership.
He added that the Kingdom has become specialized in performing complex surgical operations due to its advanced human and technical capabilities that make it a desired destination for anyone who requires treatment, whether from inside or outside Saudi Arabia.
He noted that the program embodies the humanity of the Kingdom, which transcends continents, borders and races to heal wounds and relieve human suffering.
The latest beneficiaries of the program are Yemeni twin girls Mawaddah and Rahma who were born conjoined at the lower chest and abdomen.
The baby girls from Aden were successfully separated in July.
The parents of the Omani twins expressed their gratitude to the Kingdom for facilitating the necessary efforts to separate and treat their daughters, adding that the kind gesture had had a great impact on their lives.