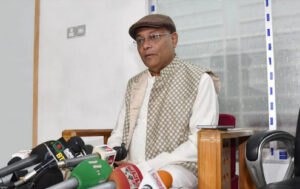 MOON Desk: Information and Broadcasting Minister and Awami League Joint General Secretary Dr Hasan Mahmud on Monday said learning other's languages apart from one's own language is not modernity.
"Of course, it is necessary to learn another language in the era of globalization, but only after maturity in one's own language," he told a discussion and a cultural function organised by Dhaka Club at its auditorium marking the International Mother Language Day.
Citing the first Bangalee Nobel laureate outside of Europe Rabindranath Tagore and Sir Jagdish Chandra Bose, the scientist who discovered the life of trees, the minister said, "We are advancing economically. But we are enriched with language, literature and culture from many days ago."
Chairman of Parliamentary Standing Committee on Planning Ministry Abul Kalam Azad addressed the discussion as special guest with Dhaka Club president Khandaker Mashiuzzaman Romel in the chair.
Hasan, in the beginning of his speech, paid glowing tribute to Bangabandhu and all martyrs of his family, national four leaders and the all martyrs from Language Movement to the great Liberation War.
He said, "Our predecessors had realized that the emancipation of Bangalees was not inherent in the Pakistan state system just only after the creation of the state of Pakistan. That is why the then young leader Bangabandhu Sheikh Mujibur Rahman made a statement on August 12 in 1948, just two ahead of the first anniversary of Pakistan's independence.
The statement was also circulated in the form of leaflets and published in Ittehad and other newspapers where he said that – August 14 is not a day of joy. He called upon to observe the day as to take an oath to get rid of torture and oppression."
The minister said the young leader Bangabandhu Sheikh Mujibur Rahman realized that the Pakistani state did not want to recognize the language of its majority Bangaless and wanted to suppress the culture. There is no freedom of Bangalees though the Bangaless were majority in numbers and enriched science, arts and culture than the West Pakistanis, said Hasan.
From that understanding, he said, Bangabandhu and a few others immediately protested against Quaid Azam Jinnah's unilateral declaration of Urdu as the national language. "Under the leadership of Bangabandhu, the movement began and established the right of our language on February 21, 1952 with the blood-stained streets of Salam, Barkat, Rafiq, Jabbar and others," he added.
Later, a cultural function was staged.