Indian politician promises employment, security to men who 'trap 10 Muslim girls for each Hindu girl'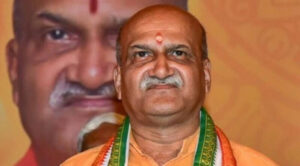 Moon Desk: Indian politician Pramod Muthalik has urged young Hindu men to lure "10 Muslim girls if we lose one Hindu girl" through what he called "love jihad" and promised to provide them security and employment.According to The Indian Express, Muthalik, the chief of the Hindu nationalist party Sri Ram Sena, while speaking at a public event in Karnataka's Bagalkote on Feb 19, alleged that thousands of Hindu girls were being "exploited in the name of love jihad", the belief that Muslims are seeking to deceive Hindu women through marriage and convert them to Islam."We are aware of the situation. I would like to invite the youth here. If we lose one Hindu girl, we should trap 10 Muslim girls. If you do so, Sri Ram Sena will take responsibility for you and provide every kind of security and employment," the report quoted Muthalik as saying.
"Our girls are exploited in love jihad. Across the country, thousands of girls are cheated in the name of love. We should warn them," the politician further said.The report also stated that in a conversation with The Indian Express, Muthalik had said that he had made similar statements more than 10 times and would continue to do so to "protect Hindu women"."I am not saying this because elections are around the corner. My statements have always been in the interest of Hindus," the report quoted him as saying.The report added that Muthalik's comments have been widely criticised, with "love jihad" considered to be a baseless conspiracy theory that courts have rejected.
The Indian politician's remarks were condemned by a number of civil society members in the country.  Journalist Mohammed Zubair — who was arrested for allegedly insulting Hindu religious leaders on Twitter — asked why the Karnataka police was not taking action against Muthalik. Author and activist Rahul Easwar tweeted that "in our Arsha Bharatha Sanskriti, we consider woman as devatas [goddesses]"."It's up to every Patriot to serve & protect all women from all traps this way or that way," he added. Indian director Mansoor Hussain Khan said that Muthalik's "bigoted and sexist hate speech" had brought shame to the people of Karnataka. He also called on the police to take strict action against the politician.