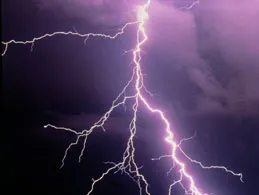 Kushtia Correspondent: Two people died after being hit by thunderbolts in Kushtia. They are Ashraful Islam (40) and Jahangir Alam (45).
On Tuesday morning, two people died in separate lightning strikes in Atigram of Kushtia's Mirpur upazila and Moslempur area of ​​Bheramara upazila.
The deceased are Jahangir Alam son of Jabed Ali of Atigram area of ​​Mirpur upazila of Chatian in Kushtia and Ashraful Islam son of Fazlu Matbar of Moslempur village of Bahirchar union of Bheramara upazila.
Officer-in-Charge (OC) of Mirpur Police Station Golam Mustafa said, "Farmer Jahangir Alam was working in the field in Atigram field of Chatian Union of Mirpur Upazila in the morning. When he was fatally injured by lightning, the locals rescued him and took him to the Mirpur Upazila Health Complex, where the doctor on duty declared him dead."
On the other hand, a person named Ashraful Islam was killed by lightning while fishing in the GK irrigation project canal of Bheramara, confirmed the officer-in-charge (OC) of Bheramara police station, Mujibur Rahman.